Best free hosting web forum Platforms to Create the website forum of your dreams. Dream it, build it. Create a professional website forum for free with the SayaLagi.com create free website forum builder. Free Sub Domain names (where you can still use a custom domain name), free web hosting, web forum templates, and free board discussion solutions.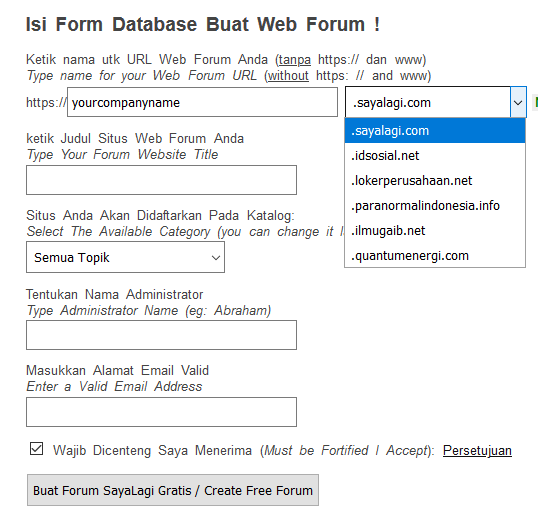 Form: Create Free Forum
No registration required to Create Free Web Forum
➭Just fill in the database form to create your free website forum in minutes..
➭Type name for your free Web Forum URL.
➭Type Your Website Forum Title.
➭Choose what kind of Forum Category you want to create.
➭Type Administrator Name (eg: use your realname).
➭Enter a Valid Email Address to get your password.
➭Click the button of create free forum.
➭Check the password sent by our web forum system builder to your email (may take between 1 minute to 20 minutes, depending on the server activity)
➭Log in as admin (by using the password) to change the default forum theme style (or to customize a theme style) or Choosing a style made for you.
➭Choose 100s of forum theme style design features
➭Choose your starting point (eg: add category, add topic, add user groups, more)
➭Get ready for business, online board discussion, share your business video, talk about news, whether you want to create an online store forum, add booking services, or live private chat with your audiences and more.
➭Publish your website forum and go live.
➭Drive traffic to your site and start your discussion.
➭Read More
By far the easiest free forum website builder. Create a forum website style using ready-made styles and layouts. Read: Very easy to create your forum website style
.